Ways of Saving Money on Your Engagement Ri...
Ways of Saving Money on Your Engagement Ring: The Good vs. The Bad
Posted on Wednesday, April 27th, 2016 at 4:31 pm by Jennifer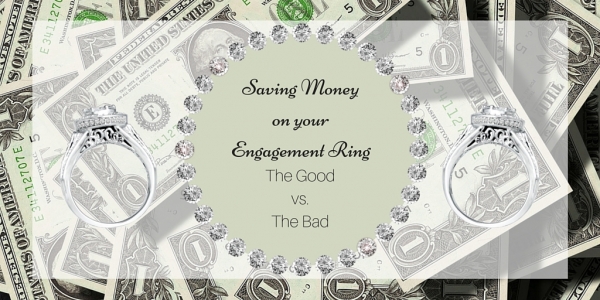 When shopping for an engagement ring, you've either already popped the question or are about to. Either way marriage will be on your mind, and with the marriage ceremony comes many expenses. It's reasonable to be frugal when looking for a ring. To assist you, we've come up with some strong recommendations regarding ways you can save money when making your engagement ring purchase. You may consider some less dependable money-saving maneuvers- we will also discuss these methods as well and why they might come back to haunt you later.
"The Good": Five Money-Saving Methods We Endorse
1) You want to choose a ring now but worry about the price: think about which is more important to you, or more importantly, your significant other. Are you more interested in the setting or the stone itself? If the stone is the most important feature to you, then you may want to choose a simple solitaire band that can be easily upgraded later. If the ring is the most important aspect, then consider the diamond alternative of moissanite. You can purchase a more expensively crafted ring, set with a moissanite that can be easily upgraded whenever you are ready.
2) If you have a treasured diamond heirloom piece passed down from a relative, consider using this for your engagement ring or possibly place the center stone in a new mounting. This is a beautiful and practical idea: the heirloom is a token steeped in love and sentiment, and using it in this manner allows you to save your money for your future together.
3) Purchasing a lab-grown diamond can save you 10-30% (or more!) when compared to a mined diamond. Our Pure Grown Diamonds are physically, optically and chemically equivalent to mined diamonds. They also have the added advantage of being a Type IIa Diamond, which is the rarest diamond type found in nature. You can find more information here or come visit us and see for yourself how beautiful these diamonds are!
4) You could also consider the classic look of a Halo Ring. A halo setting provides one larger stone surrounded by a sparkling halo of smaller stones. This gives you a big look for less. Double halos are gaining popularity as people want a sparkly look for less. Sylvie offers some of the most beautiful single and double halo rings available and can be found here.
5) We might be tooting our own horn, but an independently owned jeweler has a fraction of the overhead a chain store has. When you shop with us, we pass our savings on directly to you! We also hand select all of our loose diamonds. This means we meticulously sort through thousands of diamonds to find the premium cuts that provide the most brilliant, beautiful diamonds available today.
"The Bad": Five Cautionary Examples
1) Asking your loved one to marry you and providing them with an empty box as a promise of a ring may seem like a romantic idea, but we strongly advise against it. It gives a few bad impressions, the first being that you're not entirely committed, and second, that you're also not entirely sure they're going to say yes to your proposal. An engagement proposal is not the time to make someone question you!
2) Buying a light weight ring at a chain store may seem like a good money-saver, but be prepared to spend money fixing it and replacing it a lot sooner than a full (heavy) cast ring. Full cast gold rings typically have a lifespan of 20-30 years (sometimes longer depending on how you wear it) with some minor re-tipping and repair along the way. Lightweight rings start seeing problems much sooner, sometimes even in the first few years depending on how it is worn. As the gold holding the diamonds in place wears down, the risk of losing your diamonds goes up. Sometimes metal can be built back onto a ring but this process is more of an art than a science and can be costly. Also, there is a difference between petite and lightweight. Petite can be thin but there should still be a good amount of metal in the prongs that hold the stones in place.
3) Cubic zirconia is often offered as an alternative to a diamond for the center stone, and it may seem like a fine choice when you first see it. Unfortunately, cubic zirconia is not a very sturdy stone, and won't hold up in a piece of jewelry that's worn daily. We recommend moissanite as a diamond alternative since it's a much stronger, more durable stone.
4) Buying a diamond online has the potential to cause several headaches. First, be sure you are dealing with a reputable company and can return it if you are unsatisfied. This is critical because some companies will claim a 30 day return policy but if you read the fine print there can be clauses that allow them out of this. Next is how do you know you received what you saw online? Lab reports can help identify a diamond and its quality but that is no guarantee. GIA (Gemological Institute of America) has acknowledged that there is a black market for their GIA lab reports. The final thought to consider is how we buy our diamonds. Only by looking at them under a loop (10x magnification) and then comparing them side by side with other diamonds can we tell which ones we like best. We like to think of color and clarity grades (example F and SI-1) as a spectrum versus a single color or clarity grade. This means that a diamond graded G in color (near colorless) might be closer to an F (colorless) than the color grade down which is an H (still near colorless but slightly darker than a G. The same holds true for clarity. A diamond may have received an SI-2, but it is closer to an SI-1 than an I-1. This variance occurs because of the limited categories that define color and clarity. Also, behind a lab report is a human eye that makes the final decision. The SI-3 grade was introduced by EGL US (European Gemological Laboratory in the United States) to help clarify diamonds that are not included enough to be I-1 but have more inclusions than an SI-2. Because the price of a diamond is often determined by the grade it receives from a lab, our job is to find you the value in diamonds that are on the border but did not get the better grade. Beyond saving you money we offer a lot of benefits you'll want to have when it comes to such an important purchase.
5) Buying a secondhand ring from an individual is a venture fraught with difficulty, whether it be via Etsy, eBay, OfferUp, or Craigslist. You have no way to be certain the materials are what they're supposed to be, and since you're unable to see the ring in many cases, there's no way to verify size. The photos may be deceptive and the seller could be difficult when you wish to return the item, if returns are even an option. It's best to purchase a ring you've seen firsthand from a reputable source with a solid return policy.
As you can see, there are safe ways to save yourself some money when purchasing an engagement ring, and there are some ways to avoid when looking to save! Keep these tips in mind when navigating your budget on the journey to finding the perfect ring!