The Four Worst Ways To Pop The Question
The Four Worst Ways To Pop The Question
Posted on Friday, February 26th, 2016 at 4:32 pm by Jennifer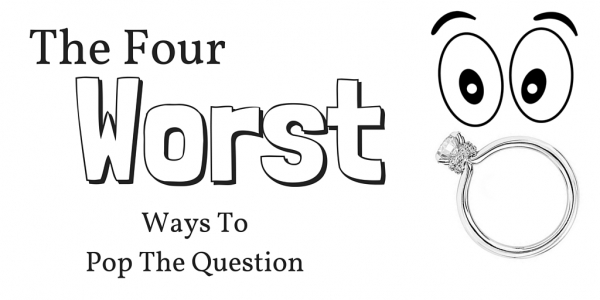 Don't Do This With The Ring
Are you thinking about proposing to your sweetheart? All the romantic gurus will tell you there's absolutely, positively no wrong way to propose – as long as your "Will You Marry Me?" is sincere, you're on the right track! But we've got to tell you the real deal here. There are four things you should never, ever do with her engagement ring if you want your proposal to go perfectly.
Don't Do This #1: Don't Hide the Engagement Ring in Her Food
Every single year, at least one frantic couple rushes to the Emergency Room to discover there's not much that can be done for the accidental ingestion of an engagement ring except to let nature take its course. And while the odds are that the ring won't be damaged by a trip through your sweetie's gastro-intestinal track, the same can't always be said for the moment!
Don't Do This #2: Don't Have Your Toddler Bring Her The Ring
You've got this amazingly cute kid, and wouldn't it be awesome if the little one brought Mom the ring? The appeal of this idea fades fast when the kid – who isn't old enough to know better, really! – loses the ring, flushes it down the potty, or swallows it themselves. If your kid is older and really responsible, you might want to think about trusting them with a small object worth thousands of dollars…or maybe not.
Don't Do This #3: Don't Hide the Engagement Ring in Her Drink
There's something about a crystal flute with champagne bubbling inside that makes romantics want to drop a diamond engagement ring in there. But you've read Don't Do This #1 and you know why this is a bad idea. Even if she doesn't swallow the diamond, there is a chance that the super hard stone can chip or damage her teeth. Don't take that chance!
Don't Do This #4: Don't Involve Animals in This Part of the Proposal
Unless you're secretly the Dog Whisperer, don't think you can train your pooch to deliver the engagement ring for you. Dogs are notoriously unreliable ring deliverers – rumor has it that the rings they 'lose' are sold, often at a tidy profit, to cat burglars. Why take chances? When it comes to something as important as your true love, put that ring on her finger yourself!