Mark Schneider's Floral Engagement Rings...
Mark Schneider's Floral Engagement Rings Offer
Posted on Tuesday, May 31st, 2016 at 2:27 pm by Jennifer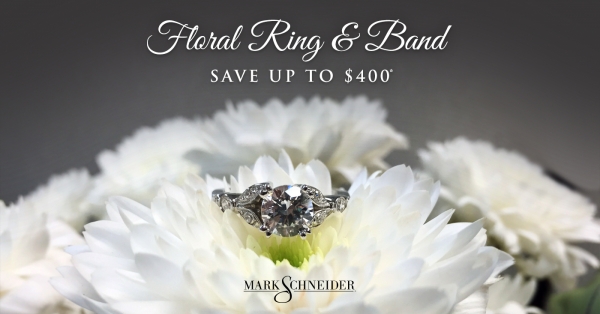 Love is in Bloom!
To celebrate the quickly approaching summer - the trees a deep leafy green, the sun high, and the flowers in full bloom - Mark Schneider Design is making a special offer!

When you choose one of Mark Schneider's beautiful Floral Engagement Rings from Cottage Hill Diamonds' selection, you'll also receive a gift certificate toward your matching wedding band:

$200 toward a 14K gold band…
$300 toward an 18K gold band…
…and an amazing $400 toward a platinum wedding band!

Mark Schneider's Floral Engagement Rings are not only exquisitely designed, they're also fully customizable! Each engagement ring features their trademark Secret Heart holding a diamond engraved with the words "Love You Forever", a wonderfully intimate addition.

This offer is available until July 31st, 2016 – so visit Cottage Hill Diamonds soon to take advantage of this amazing opportunity!